Use this form to be added to the Mini Pig Microchip Assistance Program waiting list. Availability is based on donations. When microchips are available, they will be mailed to next in line. If you have applied for assistance and are no longer in need, please email us at rescueadvocates@americanminipigrescue.com so we may send the next microchip to another pig in need.
Microchips are a common form of permanent identification used for dogs, cats, mini pigs, livestock and small animals. Millions of pets around the world have been microchipped. These tiny chips are used for identification,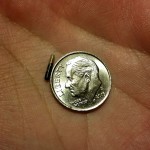 proof of ownership, and reuniting lost, stolen, or abandoned pets with their owners. Some countries require all pets to be microchipped. In the Unites States it is voluntary but highly recommended. The chips each have a unique identifying number. When a lost or stolen pet is found a veterinarian or animal shelter worker will scan the chip to retrieve the unique identifying number. They will then contact the chip manufacturer to lookup the contact information for the owner, breeder, or rescue organization that is registered to the chip.